why us
Sarawak Kuching and Miri Car Rental service. We offer Self-drive car rental, chauffeur service, tour service and long-term car rental. All of our car fleet comes with a scheduled and on time maintenance, 24 hours breakdown support, clean, fully functional cool air-conditioned and smooth-running engine for our customer. We strive to offer only the highest standard of customer service experience to each of our customers that uses our service.
Go to Unlimited Mileage
Unlimited Mileage
Craving to drive the whole town and worried on the mileage. At FleetDrive we understand that the first reason to rent a car is to drive around. We do not impose any extra cost on your mileage usage. Feel free to drive anywhere as long as it is within the rented location.
Go to BOOKING
BOOKING
We will process every booking as soon as possible once we received it. For every successful booking, we will offer you a free car delivery and return service.
Go to 24 hours support
24 hours support
In case of any unforeseen or unfortunate event that happens to the rented car, we will be available for 24 hours, 7 days a week and around the clock to assist. We are committed that all our car fleet is in a good working condition to drive.
Go to SARAWAK CAR RENTAL
SARAWAK CAR RENTAL
At FLEETDRIVE Car Rental, you can rent a car with us at Kuching and Miri Sarawak. Other location can be arranged.
About US
Car Seller - Transportation - Car Rental - Chauffeur - Tour
FLEETDRIVE @ Kuching & Miri Sarawak, Malaysia
FleetDrive Transport was established to promote tourism in Borneo Island of Sarawak. At FleetDrive, we offer personalized professional services for both corporate or individuals customer. We specialize in car rental service and always ready to provide only excellent transport services. We also cater for tailor-made tours in Kuching, Sarawak. Contact us to know more.
Car Rental service covering Kuching, Kota Samarahan and Miri Sarawak. You may rent our car according to your plan by the following options : Day, Weekly, Monthly or long term. Let us know and let us assist you on your car rental needs.

Do yo need a chauffeur driver who can drive you around so you can spend your time on more important things. Reach us and we make sure we give out only the best for you.

24 hours assistant, rain or shine, we will cover you anywhere anytime.

Coming to Kuching or Mir Sarawak for a tour or family vacations? Plan ahead and let us know. Allow us to serve you with Borneo Hospitality, the true hospitality. You may also drive beyond your holiday destination.
Our Favourite car
We offer variety of car fleet. Choose from Compact, Sedan, MPV or Luxury cars.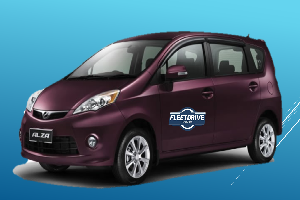 PERODUA ALZA
Customer favorite family and tour drive with a 5+2 seating capacity of a compact MPV.
The Perodua Alza is a compact MPV perfect for families or small group tour. Alza was the best-selling MPV in Malaysia for 2010 by total sales of nearly 42,000 units.
TOYOYA HIACE
Perfect van for tour and as a people carrier. Ruggedly built for years of reliable service, HIACE has proved itself on roads around the world.
The Toyota Hiace is a motor vehicle produced by the Japanese manufacturer Toyota.
PROTON SAGA
Malaysian most preferred Sedan car.
The Proton Saga is a series of compact and subcompact cars produced by Malaysian automobile manufacturer Proton. Saga is positioned as Proton's entry-level sedan.
Perodua Myvi
Malaysian Favorite compact car. Perodua Myvi is favor for long distance driving with a fuel saving technology.
Do you need a car that can fit in any small space and need a speed that can match any sedan car? Then Perodua Myvi is your car to drive.
Testimonials
Your opinion and feedback matters. Our customer is our utmost priority and we make sure that we deliver every of our customer booking and requested services.